culinary Ski days
17. - 20.03.2022
The Falstaff Culinary Ski Days celebrate their premiere in the Zell am See-Kaprun region and on the Kitzsteinhorn. Gourmets enjoy exceptional specialities from top chefs and fine wines from top vintners in impressive settings.
Probably the highest-situated gourmet programmes will take place from 17 - 20 March on the Kitzsteinhorn at up to 3,029 m. Immerse yourself in the world of culinary delights at the Gipfel Restaurant and the ICE CAMP!
The ICE CAMP presented by Audi is THE place to be in the glacier ski resort. Top wines, cocktails and Austrian tapas at the tasting on the sun deck.
Thomas Pichlmaier interprets Austrian cuisine in a new, trendy way with his "Austrian Tapas". At the wine tasting, a variety of top wines from the Domäne Wachau vineyard estate will be available for sampling. Next door, bartenders mix spectacular cocktails with distillates by Siegfried Herzog. Cool Saxophone-tunes by Peter Sax accompany the enjoyable get-together.
Tip for walkers: Hike on snowshoes from the Alpincenter to the ICE CAMP in approx. 20min.
FrI, 18.3.2022
12.00 - 4.00 pm
ICE CAMP 2,600 m
Including:
Austrian Tapas by Thomas Pichlmaier
Tasting of premium wines from the Domäne Wachau vineyard estate
Cocktails with the distillery Siegfried Herzog Destillate
HOCHGENUSS with top chef Josef Steffner - sold out
Culinary delights at the highest level. Where else but at the Gipfel Restaurant - at 3,029 metres, Salzburg's highest-situated restaurant. A stunning 5-star panorama and culinary delights at Toque-level inspire on 19 March.
Chef Josef Steffner, highly distinguished and Falstaff award-winning chef of the Mesnerhaus restaurant, creates his multi-course menu under the motto "Cooking in harmony with nature". This unforgettable arrangement of quality, regionality and creativity at 3,029 metres is accompanied by the two Falstaff award-winning top vintners Hannes Hirsch and Walter Glatzer. Siegfried Herzog of Herzog-Destillate presents and serves his 2021 Special Edition as a digestif and to finish the evening in a traditional way.
Sat, 19.3.2022
Start: 5.00 pm, Gletscherjet valley station
Evening uphill ride to Gipfel Restaurant, 3,029 m
Award-winning chef: Josef Steffner
Top vintners Hannes Hirsch & Walter Glatzer
Tasting of the 2021 Special Edition by Siegfried Herzog Destillate
Kitzsteinhorn Summit Breakfast Premium
High up at 3,029 metres is definitely one of the most beautiful places to start the day. The Gipfel Restaurant offers an impressive view of the Hohe Tauern National Park.
Only selected regional specialities from Salzburger Land are served at the Kitzsteinhorn Summit Breakfast. From Pinzgau cheese and bacon, Stubachtal Valley trout to Glacier Gugelhupf and much more.
In addition, an exclusive surprise gift from Siegfried Herzog Destillate awaits all gourmets between 17 - 20 March.
17. - 20.03.2022
daily until 11am
Kitzsteinhorn Summit Breakfast at 3,029 m
regional specialities from selected suppliers
stunning view

Kitzsteinhorn Programme
Thursday 17.03.2022
until 11.00 am Kitzsteinhorn Summit Breakfast - Gipfel Restaurant 3,029 m
Friday 18.03.2022
until 11.00 am Kitzsteinhorn Summit Breakfast - Gipfel Restaurant 3,029 m
12.00 - 4.00 pm ICE CAMP Tasting - ICE CAMP 2,600 m
Samstag 19.03.2022
until 11.00 am Kitzsteinhorn Summit Breakfast - Gipfel Restaurant 3,029 m
5.00 - 10.00 pm Hochgenuss - Gipfel Restaurant 3,029 m
Sonntag 20.03.2022
until 11.00 am Kitzsteinhorn Summit Breakfast - Gipfel Restaurant 3,029 m
further culinary highlights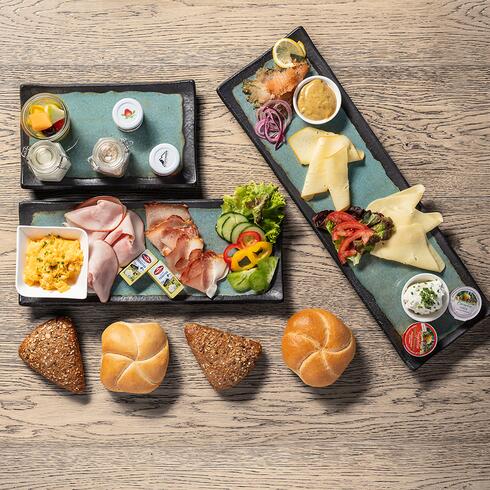 Summit Breakfast
Breakfast at 3,000m in the Kitzsteinhorn Summit Restaurant, Salzburg's highest restaurant

from € 25,50