APPRENTICE CABLE CAR TECHNICIANS ON THE KITZSTEINHORN
Apprenticeship with wide perspectives
Both ecological and social sustainability are key to Kitzsteinhorn's company philosophy. Offering young local talents a comprehensive training as well as a varied workplace is part of the company's sustainable HR management. We take a look at the apprentices' daily work where they reach great heights.
It's a bright winter's day with glittering powder snow, blue sky, sunshine and spectacular view. The apprentices' workday starts where happy skiers and snowboarders dive into wide glacier slopes. In a building nearby the Alpincenter on 2,450 meters above sea level are workshops and offices. It's the meeting point of aspiring cable car technicians of all years of apprenticeship to get assigned their tasks for the day. The job as a cable car technician is varied and so are the work areas. Apprentices in their third year of training already wear their security equipment with helmet, harness, gloves, coveralls and sturdy boots to be protected while helping with maintenance work on pylons. Apprentices in their first year stay in the workshop to do maintenance work under expert supervision. They smear, screw and hammer while I accompany the older apprentices to the summit station.
We head for summit station's Pylon 6. Sebastian Steiner accompanies and supervises the apprentices. He is workshop manager and apprentice representative for the Gletscherbahnen Kaprun Inc. For the apprentices, he is both a mentor and adviser, for he is also a member of the examination board of the apprenticeship certification exam. His aim is to prepare apprentices for their job with the varied tasks that come with it. Sebastian explains: "A cable car technician doesn't only work in the workshop. He is also responsible for operating and maintaining cable cars and lifts. The apprentices observe mechanics during snow groomer maintenance work, get to know snow making technology and care for guests on their lift operating shift. In summer, they are also assigned hiking or MTB trail maintenance, renaturalization or fencing work. An expert supervisor ensures our high quality, environmental protection and sustainability standards are met at all times."
Today, Leon Schwabl, an apprentice in his fourth year, brings the Gipfelbahn summit cable car into operation under the supervision of Sebastian Steiner. The doors open and Leon takes over the job as a lift operator. He contacts the station worker via the gondola telephone and the cable car starts moving. Leon tells the exact location to stop the cabin exactly by the pylon: "Another three meters, one meter, stop!" He opens the door 20 meters above the ground and Sebastian takes over command: "We will now step onto the pylon. First, attach the carabiner of your safety belt to the gondola and the second carabiner to the pylon. Pay attention to the ladder, it might be icy." An experienced apprentice steps out first and disappears while climbing up the metal ladder with steady steps. The other apprentices follow him one after the other. Only Alexander Maksimovic stays with me in the cabin. He explains: "I'm in my first year of apprenticeship and am not allowed to do these types of tasks yet. But I'm already looking forward to it. I've always been interested in winter sports. Starting an apprenticeship as cable car technician at the Kitzsteinhorn has therefore been an obvious step for me to take. I've chosen the double apprenticeship and am also trained to become an electrical engineer." In the meanwhile, the other apprentices clear the snow from the pylon – a task they will carry out on a daily basis in their future job. Max, who is in his fourth year of apprenticeship, is the first one to come back into the cabin and explains: "You definitely shouldn't suffer from vertigo, and you should enjoy being in nature. Weather isn't always as nice as it's today. Sometimes, an ice-cold snow storm rages while we're on the pylon, or thick clouds block the view. But to me, that's all part of this job's variety and the reason I've chosen the apprenticeship as a cable car technician."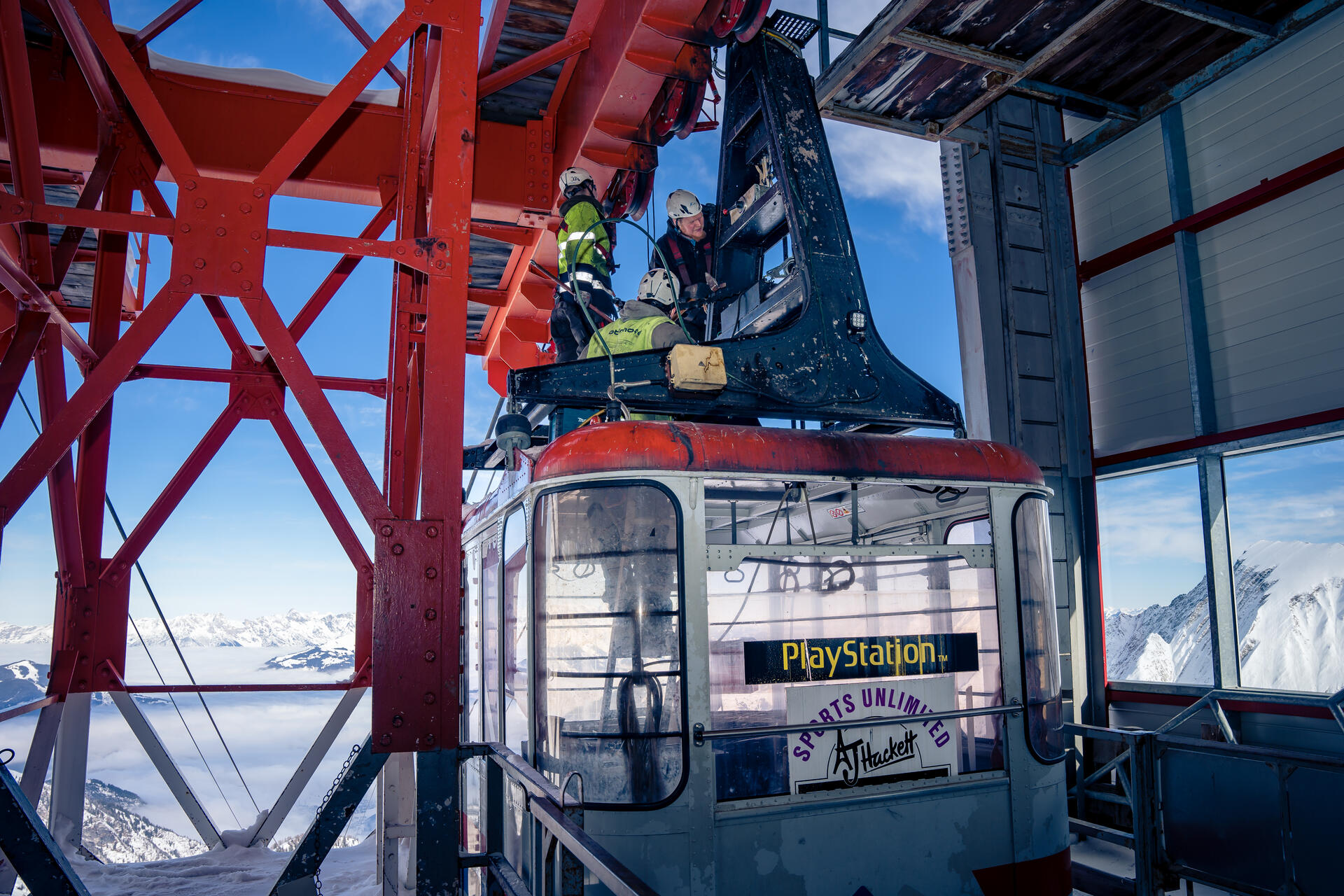 We have accomplished our tasks for the day and head back to the station where we meet Jakob Schoesser. He has completed his double apprenticeship as a cable car technician and operation and facility manager with distinction and was hired as a full-time employee. He says: "I appreciate the numerous training programs and working in nature here at Kitzsteinhorn. But now I have to leave, I was assigned to work at one of our cable cars." He puts on his skis and skillfully skis down the slope. Sebastian Steiner explains: "We equip all of our apprentices with ski gear to reach their workplace easily via the slopes."
Two apprentice cable car technicians are also hired in 2023 on the Kitzsteinhorn. Sebastian explains: "Applicants should be interested in technical work, should not be afraid of heights, should be able to do physical labor on 3,000 meters above sea level and enjoy working with guests. Skill, an eye for detail, manners and being a team player are key personal characteristics for everyone who wants to apply for this job. The apprenticeship as a cable car technician can also be completed as a double apprenticeship in combination with the electrician apprenticeship. Numerous apprentices decide to become part of our team after their apprenticeship certification exam. Many have moved up the career ladder by undergoing additional training."
Wanna become part of the team? Contact us by email or approach us on a job fair where you can learn everything about the Kitzsteinhorn as an employer.