Maisi flitzer
All-year tobogganing fun at the Alpine Coaster
A racy downhill ride is waiting for the entire family on the first alpine roller coaster of the Salzburger Land! Guided safely on rails, you race in green two-seaters with up to 40 km/h downhill. Waves, jumps and spectacular spins let the adrenalin race through the veins and cries of joy can be heard from the Maiskogel. Adults and children find a popular excursion destination and exciting adventure when tobogganing here at the Alpine Coaster in summer as well as in winter.
Tickets & Prices Opening hours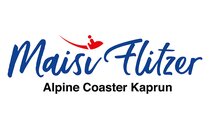 Arrival alpine coaster:
Kitzsteinhornplatz 1a
5710 Kaprun
Austria
GPS: N47 16 26.128, E12 45 25.288
Leisurely uphill, racy downhill
Take a seat in the Maisiflitzer, fasten your seatbelt and the leisurely ascent starts as soon as the light at the valley station turns green. Once arrived at the last bend, you have reached the highest point and therefore the start of the racy downhill ride. Release the brakes and off you go on a wild and funny ride. Racing up to eleven metres above ground through narrow curves and spins, you can feel the centrifugal forces.
An automatic distance control prevents unintentional driving against the next vehicle and ensures more safety.
FACTS
Location: at the valley station of the MK Maiskogelbahn (Kaprun Center)
Length of ascent 730 m
Length of descent 1.300 m
Bridges, 5 jumps, 5 angular support spins and waves
Travel time around 12 minutes
Children aged 3-7 accompanied by an adult
Max. speed 40 km/h – adjustable
Highest point 11 m above ground
Photo point
Open all year