Krefelderhütte
Traditional hut of the German Alpine Association
The history of the Krefelderhütte goes back to 1909, the year in which the hut was opened by the German Alpine Association as the first mountain hut at the Kitzsteinhorn. Over the years, the hut has been constantly expanded and renovated.
The Krefelderhütte today presents itself as a charming mix of cosiness and modern style. The public room radiates a romantic hut atmosphere – especially in the evening because the Krefelderhütte offers guest beds. Enjoy the panoramic view to the surrounding three thousand metres high mountains from the spacious hut terrace.
Tip: Overnight stay at the Krefelderhütte – 40 beds available.
Contact
Roman Rozgonyi
T +43 664 54 44 726
info@krefelderhuette.at
www.krefelderhuette.at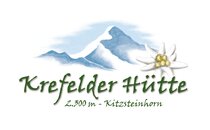 Krefelderhütte
below the Alpincenter in 2,300 m
Opening hours:
closed
again from Winter 23/24